Announcements
From this point forward, Whisper Sisters will be open sporadically. For further information, please check the announcements below or join the Whisper Sisters group on Facebook, which is located HERE.

9/18/23 - Since I am still being asked about it, as I've stated previously, Whisper Sisters is NOT for sale, nor will I allow someone else to take it over. I will no longer reply to messages regarding this.

9/8/23 - To prevent TAT from lagging too far behind, beginning with the next listing, smaller orders (12 bottles or less) will be filled first.
As of today (9/8/23) I will no longer answer e-mails requesting scent recommendations. I apologize for this, but it's very time consuming and my main focus is getting orders out. For scent recommendations, please join the Facebook group and ask there - the members are typically much better at it than I am.

6/27/23 - Since announcing my "retirement" I've received quite a few questions regarding recipes for my blends and purchasing/taking over Whisper Sisters. The answer to both is NO. I will not give out recipes, nor will I allow Whisper Sisters to continue on without me at the helm.

6/1/23 - Whisper Sisters will close permanently on November 30, 2023. Until then, the site will be open sporadically. Only 10-24 scents will be available at a time.

5/27/23 - Thirteen Halloween inspired blends are available through 6/4/23

5/15/23 - Ten scents are available now through 5/21/23.

4/28/23 - While on hiatus, a small number of scents will be available every so often. Orders for these scents will be filled within standard turn around time (7-10 days).

3/25/23 - We are currently on a much needed hiatus.

3/21/23 - Our hiatus begins March 25, 2023. There is not an anticipated return date at this time. For further information, please join the Whisper Sisters group on Facebook, which is located HERE.

3/6/23 - March 24, 2023 is the last day the website will be open before going on hiatus for a bit. I may, however, make a very limited number of scents available every once in awhile during my break. Please check the Facebook group for further information.

2/28/23 - Things are taking a bit longer than anticipated, so my hiatus is being pushed back a few weeks. I will be open a bit longer, however after 3/1/23 scents on the currently available list will start to disappear from the drop-down menus. I have to pack everything up and would rather not pack full/partially full bottles of oil, so when what I have on hand is gone, the scent will be removed from the currently available listing, but still appear on the currently available list. After Friday (3/3), 1/4 oz bottles will be the only size available and samples sent will be randomly selected - at some point (if I run out of bottles) they may no longer be included.

1/15/23 - At some point after 3/1/23 I plan on taking a bit of a hiatus. I am currently unsure of the exact date and length of time. I will add more info once it is available.

12/16/22 - Through 12/20/22 all 5 ml bottles are buy 3 get 1 free! Please do not purchase free choice, list in note section during checkout. Valid on multiples - buy 8 get 2 free, buy 12 get 3 free, and so on.

12/6/22 - Because of the death of my father and having to unexpectedly take time off, orders placed after 12/3/22 may not arrive before Christmas.

12/5/22 - Shipping may be a bit slow over the next few days. My father died yesterday and with everything going on, I'm not able to get to the post office, nor am I comfortable leaving unattended packages out for a pick-up at this time of the year.

12/3/22 - Flat rate ($5.75) USPS shipping is now the default method for orders placed within the US. A Priority Mail upgrade is available for $2.55. First Class packages are not insured and generally will not be replaced if lost/stolen/damaged.

12/1/22 - I'm switching to a slightly larger bottle, so the 5 ml bottles are on sale until my current supply is exhausted. The new bottles are 1/4 oz and will be available in both roll-on (w/steel rollers) and screw cap (see photo below).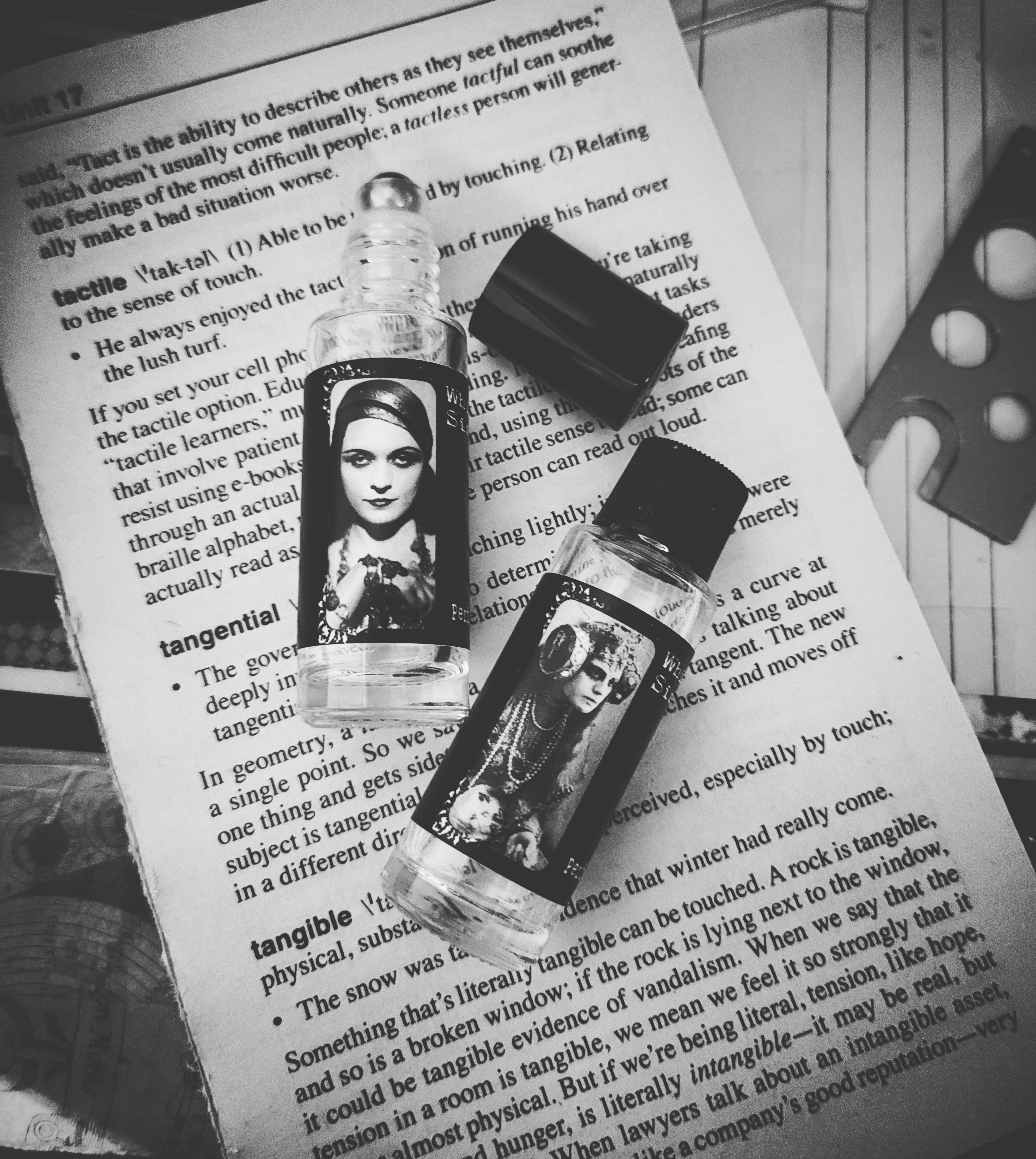 11/17/22 - Orders needed by Christmas should be placed by 12/2/22. Orders placed after may still arrive in time, but please ask via the message link prior to placing it.

*ENDED* 11/3/22 - Through 11/6/22 the following are on sale:
New blends and recently retired scents - $8 each.
Scent dupes - $6 each.
15 ml - $18 each.
In addition, the remaining Halloween/fall blends are $6 until gone and recently retired Halloween/fall blends are $8.

11/2/22 - The silver capped 5ml bottles are on backorder, so for the time being orders are being filled using 5ml black capped spiral bottles.

8/30/22 - The 2022 Halloween/fall LE blends are available now through November 2, 2022! Samples are available of the new blends only. While supplies last, orders for Halloween/fall LE blends are being filled using black bottles with black caps and stainless steel roller balls. These bottles/inserts are for the Halloween/fall LE blends ONLY.

2/14/22 - The following have recently been added to the currently available list:
New blends:
Another Perfect Catastrophe

- aged dark patchouli, vanilla bean, brown sugar, chai spices, white birch. Originally, this was a "mistake" batch I made while making another blend, but it ended up smelling really good, so I decided to keep it around.
Blackberry Firewood

- blackberry, red musk, firewood, myrrh, hint of clove.
Blackberry Patchouli - sweet blackberry, aged dark patchouli. This is a reformulation using a new blackberry oil.
Softly Spoken Lies

- cinnamon and sugary and....Indian patchouli, with sweet marshmallow and a touch of red rose. This is blend I've wanted to make for a very long time. It is a heavy cinnamon scent and while the cinnamon note is a synthetic skin safe cinnamon perfume oil, some may still be sensitive to it. PLEASE try on a small area of skin before applying - right below the inner bend of your elbow is a great spot for this.
Star Star

- every Egyptian musk I use (there are 11), angelica flower, and LOTS of sparkles. This is a reformulation of one of my very early blends.
Also added:
Bad Seed - brown sugar, vanilla musk, vanilla bean, maple, cane sugar.
Candy Rose - red rose, red Egyptian musk, marshmallow, white rose, pumpkin, cotton candy, hint of patchouli.
Gamma Ray

- African musk, Egyptian musk, light musk, teensy bit of clove.
Jeepers Creepers - cane sugar, beet sugar, aged dark patchouli.
Pneuma - dirt, aged dark patchouli, vanilla absolute, vanilla bean, vanilla bourbon.
Squish Squash

- pumpkin, sugar, strawberry, hint of maple.
Velvetonic

- blue musk, Egyptian musk, red rose, slight whiff of smoke.


2/5/22 - Sample sets will now occasionally be available, depending on bottle supply. They are 1 ml bottles in sets of 3 and are limited to scents on the currently available list only. There is a limit of one sample set per person, per order, per day. Orders for more than one will be cancelled/refunded. They ship via First Class mail (US & Canada), unless ordered with additional items.

1/5/22 - I put off doing this for as long as I could, but due to the increased cost of all necessary components, I'm going to have to raise prices. The new pricing (listed below) will go into effect on February 1, 2022.

5 ml - $14
1/4 oz - $18
1/3 oz (when available) - $25
1/2 oz - $35

11/25/21 - Orders needed by Christmas need to be in by 12/10/21 and shipped via Priority Mail. I've been told both US and Canadian orders should make it in time, as long as I have them in the mail by the USPS specified dates.

11/12/21 - After much thought and many messages regarding it, I've decided to once again offer First Class as a shipping option for both US and Canadian customers. However, if you opt for First Class, I am not responsible for the package once USPS has it. This means if it is lost or arrives damaged, it will not be replaced, nor will I be able to track it or offer help in any way. USPS has made it clear to me how useless tracking on First Class is. If you would like First Class shipping, ask for it in the note section during checkout and pay for the default Priority rate. When I fill your order, I will refund the difference to your original payment method. The refund will be $3 for US orders and $6 - $13 for Canadian orders, depending on the weight of the order. This is the only way I can offer First Class shipping. This applies to orders placed from this point forward, not orders already in my queue.

10/20/21 - Shipping is now Priority Mail only. I will not ship First Class under any circumstance, due to recent USPS changes, which will cause FC packages to take much longer to reach their destination and make tracking on them almost useless.

10/15/21 - This is the last year all of the Halloween/fall blends will be available. Next year, only the most popular scents from '20 & '21 will be available.

10/13/21 - Turn around time is currently taking longer than usual due to the increased amount of Halloween/fall orders received. Your patience is very much appreciated.

10/3/21 - Priority Mail is now the only shipping option for both US and Canadian orders.

8/25/21 - The Halloween/fall LE blends are now available! Get them until November 2, 2021. They are in 5ml roll-on bottles only.

8/24/21 - Shipping is now Priority Mail only, First Class is no longer available.

7/12/21 - With the exception of Canada, international shipping is no longer available.
6/3/21 - The site is open once again and everything is available! I am limiting how many orders I get per day, so I don't exceed my stated TAT. If no proucts are listed, please come back the next day. I apologize for this, but it's the best way to keep everything running smoothly.
5/31/21 - While Ezra and I adjust to his care/needs/schedule, the website will be open intermittently, with limited availability of both quantity and scents. As of right now, only the remaining bottles of Unicorn Blood/Tears and grab bags are available.
5/22/21 - The website is temporarily closed and will reopen on June 5th, 2021. Orders placed prior to 5/22/21 are being filled within the normal TAT.
5/19/21 - The website will temporarily close for possibly two weeks (+/-) beginning the evening of 5/21/21, so I'm able to take care of Ezra during the most important part of his recovery. The date and time frame could change, depending on if his discharge date changes, there are complications, or if I'm left with more "free" time than I anticipate. Orders placed prior to the closure will be filled within the regular TAT, not after I reopen.
5/16/21 - The list of recently retired scents has been removed from the website. It is now located in the files section of the Whisper Sisters Facebook group.
5/6/21 - Orders are now being filled within my regular time frame.
4/28/21 - 5ml roll-on bottles will have silver caps for a short period; the black are on backorder.
4/19/21 - The scent list for the recently retired scents will remain up through 5/1/21.
4/19/21 - Due to the recent availability of newly retired scents and a large increase in order volume, orders are currently taking much longer to fill. TAT is expected to reach 2 weeks or longer.
3/23/21 - Twelve new blends have been added to the Currently Available list:
Anise Lemon Drop - lemon, sugar, anise.
Astraea - aged patchouli, cardamom, marshmallow, black tea, white pepper, white clove, oat milk, saffron.
Cherrychouli Marshmallow Musk - red cherries, patchouli, marshmallow, sweet musk.

CWCP (Cherry Walnut Cinnamon Pancakes) - pancakes, cherry, walnut, cinnamon, maple, vanilla bean.

Dust - blue musk, blue Egyptian musk, tonka bean, agarwood, black sandalwood, suede, coriander, labdanum, light cedar, ambergris (synthetic scent dupe), sparkles.

Electrum - resinous myrrh, vetiver, black pepper, dark vanilla.

Lemon Drop - lemon, sugar, marshmallow.

Patchouli Lemon Drop - patchouli, lemon, sugar, marshmallow.

Prázdný - aged cedar, dark vanilla, marshmallow, slight hint of black sandalwood.

Sister Moon* - moonflower, violet, earth, champagne, hyacinth.

Tilde - red cherries, patchouli, sugar, vanilla cream, cinnamon.

Velvet Smoke - aged cedar, Egyptian musk, velvet, chalk dust, cotton batting, incense. Inspired by the scent of a Victorian era chair being reupholstered in velvet.
_______________________
3/16/21 Semi-retired scents will be available April 2 - 18. This is the last time they will be offered.
1/10/21 Due to recent changes, I can no longer ship to the UK. As of right now, I'm not sure if this will be temporary or permanent.
11/27/20 US orders needed by Christmas need to be placed prior to 12/8/20. International orders need to be placed before 12/1/20. Please understand this means I will have orders in the mail by the USPS cut off dates, however I am not responsible for USPS delivery. It's entirely possible an order placed prior to those dates may not arrive in time, depending on the USPS delivery situation in your area.
8/31/20 The Halloween/fall inspired LE blends are available now through November 2, 2020! Samples are not available of Halloween/fall inspired LE scents.
8/26/20 The Halloween/fall inspired limited edition blends will be available the 2nd week of September, possibly sooner, depending on the arrival of the labels and a couple necessary components.
5/26/20 Combined shipping codes are no longer available. Additions/subtractions are not possible once an order has been placed. If more than one order is placed in a 24 hour period, they will likely ship together and the excess shipping charge will be refunded to the method used for payment.
5/7/20 Semi-retired blends are available now through May 15th, 2020! They likely will not be available again until August.
12/11/19 5 ml bottles are now available in roll-on only.
12/11/19 I am now using the short, squatty 5 ml bottles instead of the taller, more narrow ones.
12/8/19 US ORDERS NEEDED BY CHRISTMAS MUST BE PLACED BEFORE 12/10/19. INTERNATIONAL ORDERS PLACED NOW LIKELY WILL NOT ARRIVE PRIOR TO 12/25/19.
11/29/19 Orders for 5 ml roll-on bottles are currently being filled using stainless steel roller inserts instead of the white nylon. The white nylon are on back order and will be used again as soon as they are available.
6/22/19 International shipping to Australia, Canada, Poland & the UK is available once again! If purchasing more than 6 bottles of perfume oil or multiple 1/2 oz size bottles, additional shipping may be required.
6/17/19 International shipping is temporarily unavailable. Once new USPS rates go into effect (6/23/19), international shipping will return.
6/13/19 I hate having to do this, but due to the upcoming USPS rate increase on international shipping, 6/16/19 is the last day those living outside of the US can place orders until after the new rates go into effect.
3/15/19 Black Musk was was reformulated by the fragrance lab, which means scents containing it may smell slightly different.
3/11/19 WHISPER SISTERS IS OPEN!!!
3/11/19 Due to rising costs, only one sample of your choice will be included with each order. Sample must be from scents on the Currently Available list.
2/23/19 Combined shipping is no longer available. Please be sure you are ordering everything you want to order, as additions, subtractions, and/or substitutions are not permitted.
1/23/19 While I recover from surgery, certain oils will be available on Thursday and Friday of each week. If a listing doesn't show COMING SOON, it's what is available that week. At this time, only random samples will be sent with orders.
1/2/19 Whisper Sisters is temporarily closed due to my upcoming surgery.
ATTN: 1/1/19 WILL BE THE LAST DAY TO PLACE ORDERS BEFORE THE TEMPORARY PARTIAL CLOSURE. WHISPERSISTERS.COM WILL NOT COMPLETELY REOPEN UNTIL I AM FULLY RECOVERED FROM SURGERY, WHICH WILL BE APPROX. 8 - 10 WEEKS.
12/24/18 I will be having surgery in January. For this reason, whispersisters.com will temporarily close on 1/2/19 and reopen once I am given the green light to work again, which likely will not be until March 2019. For updates, please join our Facebook group, which is located HERE.
12/23/18 My bottle supplier sent the wrong bottles. They are closed until 2019, so screw cap bottles are currently unavailable.
11/29/18 US orders needed by Christmas must be received by December 6th, 2018. International orders likely will not arrive prior to 12/25/18.
Sample vials are no longer available for purchase. Each order includes one free sample. You may request a specific scent or one will be selected for you at random.
All US orders are now shipping at a flat rate by Priority Mail. This means orders are automatically insured and should arrive much faster, once they are shipped. If you prefer First Class shipping, use code FIRSTCLASS in the space provided during checkout for a $3.50 shipping discount. Please be aware, however, if your order ships First Class instead of Priority, it will not be replaced if it does not arrive or arrives damaged, unless we are at fault. Discount is valid on US orders only.